Victory Index Report for Text Analytics
Hurwitz & Associates Announces Results of Its Victory Index for Text Analytics
Report Serves as a Market Research Assessment Tool Featuring Vendor Reviews and Critical Industry Trends
BOSTON, MA-- (January, 2013) - Hurwitz & Associates today announced the findings of its Victory Index report for Text Analytics. Designed as a market research assessment tool, the Victory Index highlights both the diverse uses for text analytics technology such as understanding the voice of the customer, risk analysis and identifying fraud, and the vendors who make those applications possible. The Text Analytics study examines the most critical trends for end users to consider and analyzes 10 vendor offerings in the market across four key dimensions: Vision, Viability, Validity and Value. 
Purchase the Victory Index Report Here
The Emergence of Big and Fast Data
Data Management in Transition: Where Are We Heading With Big and Fast Data?
Judith Hurwitz, President & CEO
Dr. Fern Halper, Partner
A confluence of factors has converged to create one of the most important trends in data anagement – the emergence of Big and Fast Data. These factors include advances in computing technology, the decrease in computer memory prices, the maturation of the Internet, more advanced analytical tools, virtualization, and the cloud. At the same time, business requires immense quantities of data to ptimize customer outcomes. This data is being created across all customer channels, including the web, mobile devices, and through in person interactions with customers.
Download the report: Data Management in Transition: Where Are We Heading With Big and Fast Data?
Hybrid Cloud for Dummies
Hurwitz & Associates is proud to announce the publishing of our newest book, Hybrid Cloud for Dummies.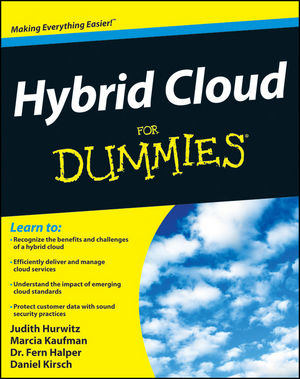 For a preview of the book click here.
Hybrid clouds are transforming the way that organizations do business. This handy guide helps you find out what this new cloud deployment model is all about. You'll get down- to-earth information about cloud technology, questions to consider, and how to plan and deliver your move to a hybrid environment.
Constructing the cloud — learn the basic concepts of the hybrid cloud from both a technical and business perspective

Delivering cloud services — dive deeper into the actual foundational elements of the hybrid cloud

Identifying business value — determine your hybrid cloud needs based on your business objectives

Unified hybrid environments — find out what it means to create a computing environment that brings elements of the data center together with public and private cloud services

Making it work — examine the steps you need to take to make this new architectural approach work — including security, governance, data, integration, monitoring, and more

Get your ticket to the cloud — tips on how to talk to cloud providers and plan for the service you choose
Order your copy today!
Fern's Data Makes the World Go 'Round
Dan's View: Compliance, Governance & Security